Young Leaders
Young Leaders and Global Goals
Our Year 6 children were introduced to the work of the United Nations and their aims for a more sustainable world. Seven children put themselves forward to meet weekly to use these goals to make our school community a better place - and so our Young Leaders group was born.
What are the Global Goals ?
In order to raise awareness of the Global Goals and their proposed work within the school , the Young Leaders led a whole school assembly showing a video featuring activist and Nobel Peace prize winner, Malala Yousafzai. They explained some of the 17 goals and how they affect our community. Quizzing their audience about what they thought should be done to make improvements to help our world, they were able to gain ideas of future work.
Sport Team Names Chosen Democratically
Our school sports teams are named after famous sporting people to help children be inspired to try their best in sport. When the Young Leaders felt that these needed refreshing, they chose six current, inspirational sports people and publicised these on a noticeboard. Recognising the importance of fairness, they gave each child an opportunity to vote for their favourites.
Our teams are now named after Lewis Hamilton, Jonnie Peacock and Harry Kane.
Global Goals:
3 Good Health (encouraging sport)
10 Reduce Inequalities
16 Peace and Justice (through democracy)
Harvest Collection
Young Leaders got involved to help our Harvest Collection for Kinsley Foodbank. Each day they put out a noticeboard to remind families to donate and o helped arrange displays in the church and school hall so they could be seen during our Harvest Services
Global Goal: 2 No Hunger
Encouraging Exercise
When Imogen and Dylan said they were fed up at lunchtime, they were asked what would they like to do. They developed the idea of leading activities for other children to be involved in. This became known as "MOVE IT MONDAYS" with different Young Leaders taking responsibility each week. So far they have set up obstacle courses, target games and races.
Global Goal: 3 Good Health (encouraging exercise)
Recycling Lunchtime
Global Goal: 12 Responsible consumption and production
Young Leaders held a lunchtime of recycling and upcycling activities:
"Race Against Time" - a timed challenge to sort out different materials (plastic, cans, and paper)
"Ditch the Plastic" - a target game using plastic bottles.
Making balls from plastic bags
Making tealight holders from empty jam jars
Appointing an Eco Group
Many of the Global Goals address climate change so the Young Leaders are also working towards Eco School Awards.
They advertised job vacancies for Class Eco-Rangers of all ages and spent lunchtimes interviewing those interested in taking on the responsibilty of encouraging their class to be more sustainable.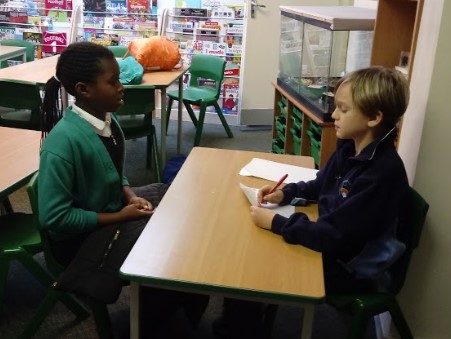 Each Young Leader has been assigned to a class and will work closely with their Eco-Rangers as we progress with our EcoSchool awards.
| | | |
| --- | --- | --- |
| Years | Young Leaders | Eco-Rangers |
| Nursery, Reception and Year 6 | Imogen | Zach and Alex W |
| Years 1 and 2 | Scarlett and Dylan | Tom and Jenson |
| Years 3 and 4 | Connah and Dan S | Mabel and Joy |
| Year5 | George and Oliver | Harvey and Sam W |
Eco Action
The Young Leaders and Eco Rangers reviewed our school environmental practices and created an Eco Schools Action Plan to improve these. This focuses on 3 priorities:
Global Citizenship (Global Goals)
Waste (12 Responsible Consumption and Production)
Marine (14 Life Below Water)
The plan includes special lunchtimes with activities, competitions, sales, assemblies and conferences.
Eco Passport
The Eco Passport consists of 10 challenges to do at home. Some of these challenges are: do 5-10 minutes exercise with all your family (e.g. mum, dad, brothers and sisters), make a fish out of litter and tidy your bedroom. The Eco Passport creator, Daniel Simpson, is also one of the Young Leaders. We are promoting eco awareness at home not just at school. People who complete the Eco passport will receive an eco-badge and an eco-certificate.
(article by Dan Simpson)
Fairtrade Conference at Leeds Civic Hall
On Friday 1st March, the Young Leaders went to a Fairtrade conference in Leeds. Throughout the day we did different activities and people from the Fairtrade community talked to us (a local MP, the Mayor of Leeds, people from Leeds DEC and a sustainability manager from the Co-op) .
The activities included making a Fairtrade farmer puppet with @DECLeeds, a race for chocolate with @bgacademy and a game of chance led by @ACEprimary. We chose which activities to do and enjoyed learning more about Fairtrade.
We hope to develop some of the ideas from this conference to be able to hold our own school conference with local schools.
(Article written by Scarlett Butterworth and Imogen Kirby)
30 Days Wild
30 Days Wild encourages children and their families to bring a little nature into their lives every day in June. The Eco Team organise lunchtime activities so everyone can get involved http://www.mywildlife.org.uk/30dayswild/